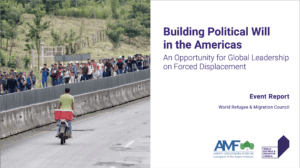 Read the report of our panel discussion with three leaders — Madeleine Albright in the United States, Lloyd Axworthy in Canada and Mayu Brizuela de Ávila in El Salvador — on the domestic and regional actions and policies as well as the international peace and security diplomacy needed to build political will and transform governance to reset the response to forced displacement. New York Times columnist Nicholas Kristof moderated the event co-hosted by the Aspen Ministers Forum.
Read More »
World Refugee & Migration Council Research
The bold recommendations of the World Refugee & Migration Council's (formerly called the World Refugee Council) Call to Action: Transforming the Global Refugee System report are grounded in peer-reviewed research papers and reports on issues impacting displaced people and migrants. 
New research to support the Council's projects for implementing many of its innovative proposed actions focuses on:
Holding governments and kleptocrats accountable for displacement
Gender — with a particular focus on refugee women and girls 
Climate change and migration, and
Host communities — both the impact of protracted displacement and innovative ways of supporting host governments
The research agenda will continue to evolve as the Council engages in other issues, such as the impact of COVID-19 on Syrian refugees. Researchers interested in submitting their work for possible publication are encourage to contact us at: research@wrmcouncil.org