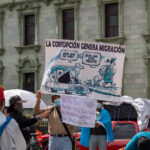 When Central American migrants are asked why they decided to leave their countries, they give a variety of responses; they're seeking better economic opportunities, family reunification, protection from extortion and criminal violence, hope for a better future for their children. Often it is a combination of factors that drive migration, and the drivers of migration are themselves linked.
World Refugee & Migration Council Research
The bold recommendations of the World Refugee & Migration Council's (formerly called the World Refugee Council) Call to Action: Transforming the Global Refugee System report are grounded in peer-reviewed research papers and reports on issues impacting displaced people and migrants. 
New research to support the Council's projects for implementing many of its innovative proposed actions focuses on:
Holding governments and kleptocrats accountable for displacement
Gender — with a particular focus on refugee women and girls 
Climate change and migration, and
Host communities — both the impact of protracted displacement and innovative ways of supporting host governments
The research agenda will continue to evolve as the Council engages in other issues, such as the impact of COVID-19 on Syrian refugees. Researchers interested in submitting their work for possible publication are encourage to contact us at: research@wrmcouncil.org