North and Central American Task Force on Migration
About the Task Force
The North and Central American Task Force on Migration is a non-governmental forum of academics, civil society and business leaders, and former policymakers in dialogue with current government officials created to facilitate a broadly driven solution dialogue among the countries involved in the crisis of migration and forced displacement in the region. Initiated by the World Refugee & Migration Council with the Center for U.S.-Mexican Studies, the Colegio de México, the Migration Policy Institute and the Inter-American Dialogue, the Task Force will issue concrete recommendations for collective, regional action based on evidentiary research to promote responsibility sharing across North and Central America.
It is time for a comprehensive, unified regional effort to address the major issue of refugees and migrants in the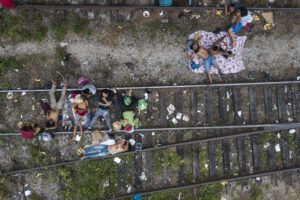 Join us for a panel discussion Thursday, July 15 from 12:00–13:15 EDT (09:00–10:15 PDT) to present the latest North and Central American Task Force on Migration report and recommendations, Humanitarian Protection in the Region: A State
Read More »
Sign up for our newsletter here. Contact the Task Force at info@wrmcouncil.org with questions or to learn more about how to get involved.