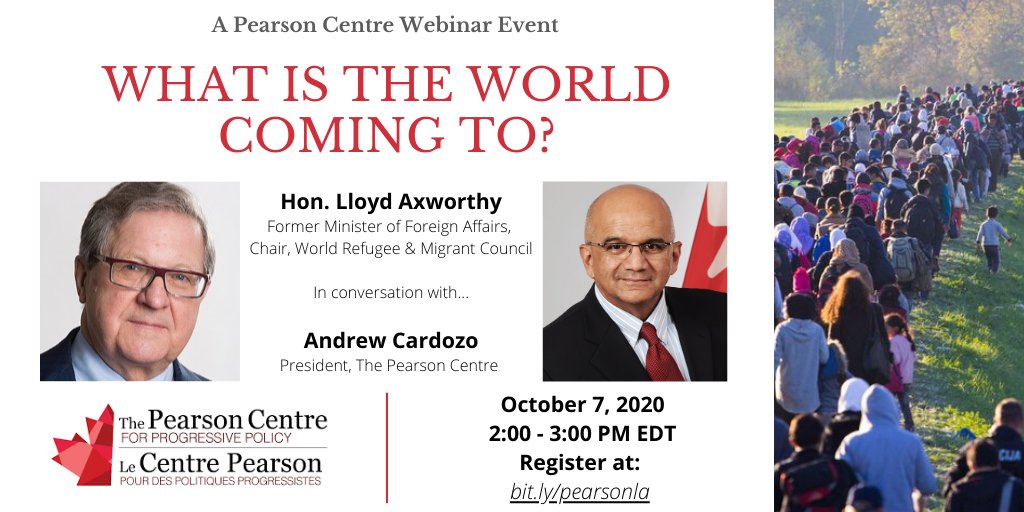 Speaker
Lloyd Axworthy

Président du Conseil, Conseil mondial pour les réfugiés et la migration

The Honourable Lloyd Axworthy is the chair of the World Refugee & Migration Council and one of Canada's leading voices on global migration and refugee protection. After a 27-year political career, where he served as Canada's minister of Foreign Affairs and minister of Employment and Immigration, among other postings, Mr. Axworthy has continued to work extensively on human security, refugee protection and human rights in Canada and abroad. He was presented with the Pearson Peace Medal by the Governor General of Canada in May 2017. In his term as president and vice-chancellor of the University of Winnipeg, Mr. Axworthy initiated innovative programs for migrant and aboriginal youth communities, and has also done a great deal of work on refugee reform as a Richard von Weizsäcker fellow at Germany's Robert Bosch Academy.
Date
Oct 07 2020
Expired!
Time
Eastern Daylight Time (Canada/US)
2:00 pm - 3:00 pm
What Is the World Coming To? A Conversation with Hon. Lloyd Axworthy
WRMC Chair Lloyd Axworthy joined The Pearson Centre President Andrew Cardozo for a conversation about the pandemic, migration, multilateralism, world affairs and more on October 7, 2020.
Watch the conversation:
Since being first elected as an Manitoba MLA in 1973, Hon. Lloyd Axworthy has made a name for himself in Canadian politics. Axworthy served in four federal ministerial portfolios, and was elected at both the provincial and federal level. He was nominated for the Nobel Peace Prize in 1997 for his internationally recognized leadership in the Ottawa Treaty on Landmines. Today he is Chair of the World Refugee & Migration Council, working to build international cooperation to respond to the refugee crisis. Axworthy is best know for his work on economic and international portfolios, most notably as Canada Minister of Foreign Affairs from 1996 to 2000.
The implications of the COVID-19 pandemic for migrants and refugees are real and urgent. As an already increasing challenge across the globe, the pandemic has only exacerbated the challenges faced by refugees. Join us as we break down these issues 1-on-1 with this renowned multilateralist in the Pearsonian tradition, discussing world affairs and the serious challenges we face in international cooperation, development and the movement of people.